GAYme Show!
Saturday, November 11 2017
11:30pm
UCBT East Village
153 East 3rd St, New York, NY 10009
$7.00
(Plus $1.00/ticket transaction fee)
There will be a standby line for this show
---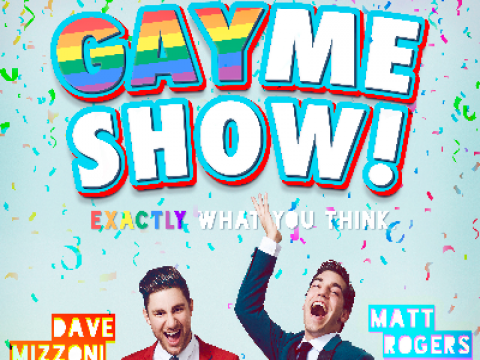 Ever talk to a straight guy and think, "Jesus Christ you're boring!" Join gay-ass hosts Dave Mizzoni and Matt Rogers as they gay up the straights through games and trivia. Life lines include one woke woman and a wise queer. Come witness the ultimate test of who Is honorarily GAY AS FUCK! (and guys, that's a GOOD THING!)
Just a few things you need to be aware of...
You are buying ticket totaling $
You have 10 minutes to complete payment once you click proceed.
Be On-Time
Get there 15 minutes early or your seat may be lost.
Know Where to Go
We have a few different locations, make sure you are going to the right one.
No Refunds or Exchanges
ALL purchases are final. Please don't ask for a refund.
Lineup May Change
The performers listed may not all be present.